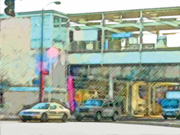 Featuring extended platforms.

Click image for design presentation illustrating the renovated Western station.
The renovated Western station will benefit all Brown Line customers with:
•
Longer platforms that accommodate longer trains
Eight-car trains (two additional cars) means more customers can board.
•
Accessibility for everyone
Elevators and accessible turnstiles meet Americans with Disabilities Act requirements.
•
Modern and convenient features
More turnstiles to ease congestion and additional exits/entrances to improve the flow of customer traffic.